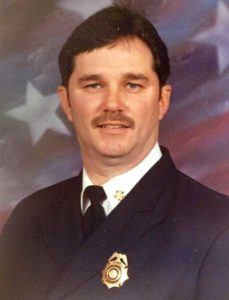 Some heroes are made in the heat of the moment, when dire situations happen and they need to jump into action.  Some heroes simply live their lives in a way that draw admiration and respect, living more for others than for themselves.  And some heroes take on the responsibility of caring for their community and others who they do not even know, just because it's something that they feel called to do.  Our Hometown Hero this quarter shows us all three of these qualities, as well as a lifetime of courage and service to his nation and community.  We recognize the Burlington Fire Chief, Jay Smith.
Jay is an Alamance County native, graduating from Eastern Alamance High School in 1978.  After high school, Jay enlisted in the U.S. Air Force, serving from 1978 through 1982, and during this time was awarded Airman of the Month at Seymour Johnson Air Force Base in Goldsboro, NC where he was stationed.
Jay was first hired by the Burlington Fire Department in 1987.  In 1988, he was honored with the Firefighter of the Year award. He quickly rose through the ranks, earning his first promotion to Fire Engineer in 1990, a promotion to Lieutenant in 1992, and to Captain in 1993.  By 1995, Jay was the Deputy Chief of Fire Prevention, and in 2000, he was named the Fire Chief of Burlington.  He has currently served in this position for 15 years, where he oversees 91 firefighters at 5 fire stations, with another station scheduled to open within the next year.
During his career as a firefighter, Jay has sought to continue his education and learn about the newest techniques for fire prevention and safety.  He holds an Associate's Degree in Fire Protection from Alamance Community College in 1991, an Associate in Applied Science from Durham Technical Community College in Fire Protection Technology in 1994, and a Bachelor of Arts Degree fromJohn Wesley College in Management and Ethics in 1998.  He also holds a Level III Fire Inspector Certification through the NC Code Officials.
In addition to serving the community through the fire department, Jay also finds the time to volunteer with Meals on Wheels once per month and also enjoys taking part in the annual Crop Walk for hunger every October.
Jay holds memberships in many firefighting organizations, including the Alamance County Emergency Services Association, the International Association of Fire Chiefs (IAFC), the North Carolina Association of Fire Chiefs (NCAFC), the North Carolina Chapter of the International Association of Arson Investigators (NCIAAI), the NC Fire Marshal's Association, the National Fire Protection Association (NFPA), and the Piedmont North Carolina Firefighter's Association (PNCFA).
It is through the hard work, commitment, courage, and leadership of selfless people such as Fire Chief Jay Smith that our communities remain safe and that we can go to bed at night knowing that, if needed, help is simply a phone call away.