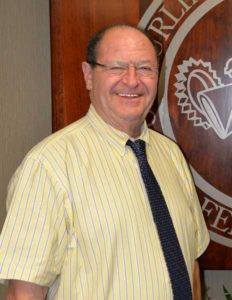 If you have played Little League baseball, football, or soccer, or if you have played in adult softball leagues with the City of Burlington during the past 47 years, Tony Laws has touched your life.  He has been the catalyst behind those programs and many others in Burlington, and has been a part of the Burlington Park and Recreation department since becoming an intern here in the late 1960s.  In April of 1969, even before graduating college, Tony was named to the position of athletic director, the fourth member of a staff headed by the legendary Joe Davidson.  In 1978, Tony became superintendent of the recreation department, and by 2003 was its director.
When Tony began with the city, there were only 200 acres in the parks program.  Tony initiated and was awarded grants on the federal and state level to develop the parks program in Burlington.  Through this funding, Tony has overseen the program grow to span more than 700 acres with one of the finest city parks in the nation, which includes a Dentzel Carousel and miniature train.  Across the city are swimming pools, a senior center, an aquatics center, dog parks, soccer fields, a golf course, football and softball fields, and the North Carolina Softball Hall of Fame.  There have been major facilities added under Tony's leadership – Davidson Park in west Burlington, Indian Valley golf course, a new soccer complex in Burlington's western limits (which has since been commuted to Guilford County), and a trail along the Haw River that is part of the North Carolina Mountains-to-the-Sea walking trail.
He worked many years as the athletic director for the city, and during those years built the programs that attracted more and more Burlington residents to its playing fields.  Tony saw a real potential for softball in Burlington.  There was high local interest, and as time passed a large number of adults began to play.  There were some very good local teams sponsored by local businesses, and they performed on the state level as well.  This interest and enthusiasm led Tony to work to bring national tournaments to Burlington, and for many years this city has been the site for some of the most important adult softball tournaments in the country.  Those national tournaments not only provide family entertainment on weekend afternoons, but have assisted the local economy, filling area hotels and restaurants over long weekends and bringing thousands of visitors here over the years.
Through Tony's efforts, Burlington's City Park became home to the North Carolina Softball Hall of Fame, into which Tony himself was inducted in 1986, being the youngest person to receive that honor.  He led delegations to various softball championships to China, Canada, and South Africa.  In 2006 he was honored with the Distinguished Service in Sports award from the Alamance County Development Council.
Being the athletic director for the city, Tony was also our district commissioner for the NC Amateur Softball Association.  Over the years, he served the association in many ways – Secretary, State President, State Secretary, Region Secretary – and in 2005 was named NC State Commissioner.  He was a multi-year recipient of their President's Award, and the venue director of the softball competition portion of the Special Olympics World Games.
Tony is a native of Hillsborough, where he was an all-star basketball player at his alma mater of Orange High School.  He went on to attend North Carolina State University, and after graduating with a degree in Recreation and Park Administration moved to Burlington and has been here ever since.  He lives here with his wife of 43 years, Patsy, and their two sons, Lee and Chad.