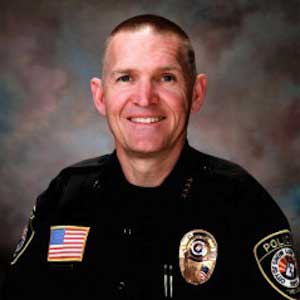 In today's world, so much focus is put on sports figures and celebrities that most people would point to them and say, there's a hero.  We often don't notice the people who are not in the spotlight, who quietly work in our communities and put their lives on the line every day just so that we can walk down the streets safely.  The men and women of the Burlington Police Department devote their lives to each member of this community every day when they put on their uniform, sometimes even to the point of giving their own life for us.  At the helm of our police department is our Hometown Hero, Chief Jeffrey Smythe.
Chief Smythe was born in the Philadelphia area, and throughout his young life moved around to many different areas including Florida, Alabama, and Virginia due to his father's career in the FBI.  Although he respected his dad's work ethic and commitment, he knew that he would not choose the exact same career path.  He attended Arizona State University where he earned a bachelor's degree in justice studies.  It is while attending college that he decided to become a police officer, first serving as a dispatcher for the Arizona State University Police, and then becoming a sworn officer in 1986.  While working at the university, he also worked as an undercover officer for the Drug Enforcement Administration (DEA).
In 1989, Chief Smythe began working with the Scottsdale Police Department.  While there, his contributions to rewriting their policy manual helped to earn the department accreditation with the Commission on Accreditation for Law Enforcement Agencies (CALEA).  He also assisted another department in nearby Show Low to achieve the same accreditation.  He continued working undercover with the DEA and was also a supervisor for the Bicycle Patrol and High Enforcement Arrest Team.  He served as the lieutenant supervising training and property crimes, and also was a driving force in the development of community policing in Scottsdale.
He saw great success in his career while living in Arizona, becoming the Chief of the Show Low Police Department, a position that he held for five years.  During this time, he applied for the position of Burlington Police Chief and was chosen from a pool of over 50 applicants.  Chief Smythe chose Burlington specifically because it was already a successful department with CALEA accreditation, and because of our government structure and location – his wife has family in the Raleigh area.  He was sworn in and officially began his position here on May 1, 2013.
Chief Smythe holds a master's degree in educational leadership from Northern Arizona University and has also taken classes in advanced law enforcement professional development at such institutes as the FBI National Academy and the School of Police Staff and Command at Northwestern University.  He particularly enjoys the training aspects of his job, especially in the areas of community policing and officer safety.
One of the programs that Chief Smythe takes particular interest in is the 'Below 100' program.  This national initiative aims to reduce the number of police line-of-duty deaths to less than 100 per year, which is a number that has not been achieved since 1944.  It rightfully recognizes each officer death as a tragedy and focuses on a culture of officer safety.  Some simple areas of focus include always wearing a seatbelt, wearing a bulletproof vest, watching your speed, and never being complacent while on duty.
Through his words and actions, Chief Smythe is making this town a better, safer place to live, both for its citizens and officers.  We not only recognize him for his achievements and commitment to this community, but also every police officer in our community for their bravery and loyalty to each of us.  Thank you for all you do each and every day.